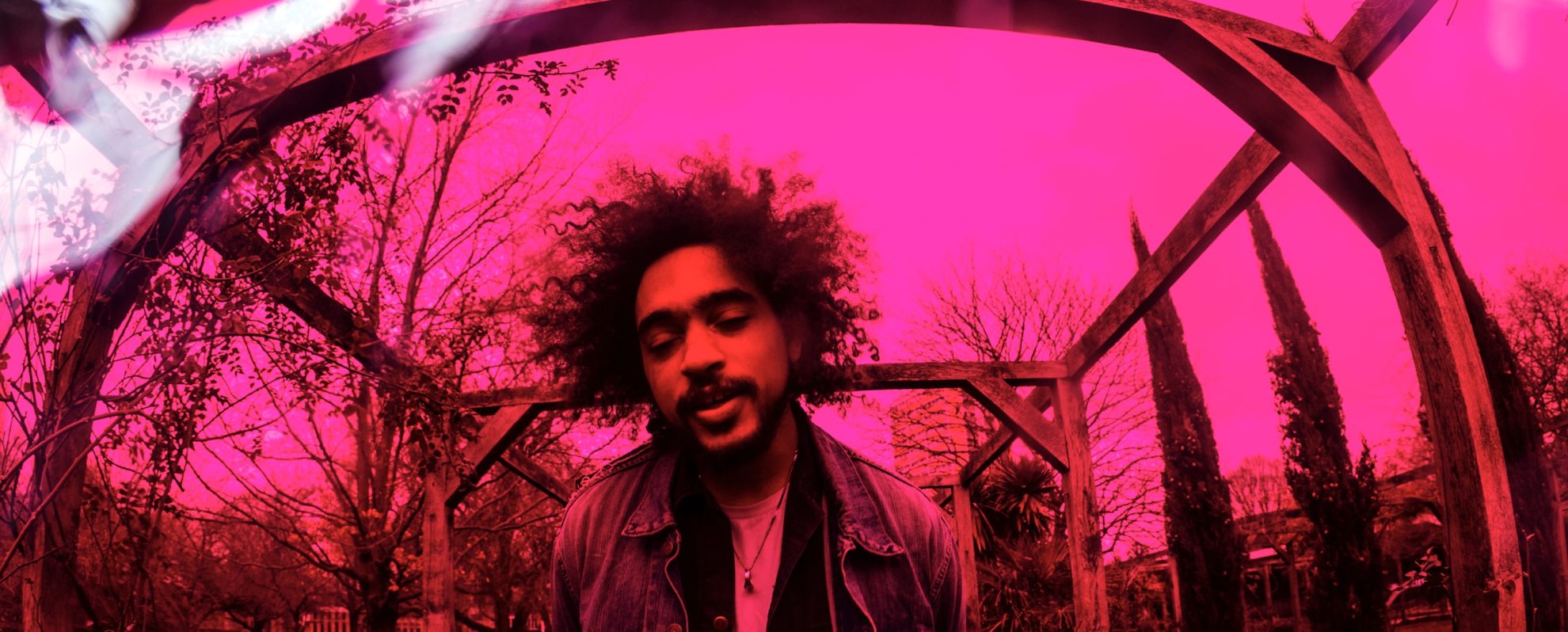 South Londoner Wu-Lu's stunning new album contains post-genre war dubs that speak directly to these richly troubled times.
The twelve simmering tracks from the producer, multi-instrumentalist and vocalist are made of depth-charged post-punk, thrashed-up skate-park screamo, and the gauzy hip hop that Knwxledge might make if he'd got lost round the back of The Windmill on Brixton Hill.
It's laced with revvy, ethereal guitars that warp and loom like electric pylons, concrete walls of bass that power out of drill-influenced, triplet-laced drums and piano melodies that pull you through. It teleports between Factory Records in the darkest 1980s and classic albums from DJ Shadow or early '90s Slipknot. LOGGERHEAD pulls from the past and reshapes it for now.
"I'm happy if people say I'm on the punk thing," says Wu-Lu, real name Miles Romans-Hopcraft, "but it's about the essence, not sounding like The Sex Pistols. I've always come with an emotional perspective and I don't try and conform to what is going on. I tell it how I feel it."
This is the anthemic sound of London in 2022, and the sound of 2022 is intense. At gigs, he's putting an extra mic on stage, so that anyone who needs to come and scream can come and scream, something inspired by the Dan Carey-produced Scotti Brains. He's making gigs All Ages wherever possible and he's planning a tour of youth clubs, because 2022 also requires togetherness – and because years as a youth worker at Brixton's Raw Material and Pupil Referral Units means he knows why it matters.
Current times require fury, too. "I've had a sharp turning point over the last few years. I'm going to express myself rather than holding it in, locking horns with people," he says. Discovering the Loggerhead turtle made the title even more resonant. "It reminded me of being alone, being at sea… When I say 'Loggerhead', I mean me. It's a mono feeling, insular. It's internal."
LOGGERHEAD was built with his band at a West London pub and at The Betty Fjord Clinic in Norway. They returned with an almost-complete album, drawn from jams that built samples that were chopped up, produced and replayed.
It contains songs about anxiety, guilt, and finding a way through the fear by facing it off and shouting it out – and by looking out for each other. 'Calo Paste' featuring Léa Sen combines beautiful string arrangements with bone-tired vocals and the heaviest layers of go-slo guitars. 'Blame' has industrial, glitchy electronics, hyperactive breakbeats and distorted megaphone lyrics. 'Night Pill feat. Asha' soundtracks a 3am skate session, with night bus melodies amped up by electrified guitar lines that hover in the background like loose wires, and a rumbling energy that spirals the whole song up towards the stratosphere.
"It's patchwork of situations that have happened," says Wu-Lu of his stream of consciousness, freestyled lyrics, "but it's a cohesive thing of trying to understand where someone is coming from and trying to explain where you're coming from – relatable situations."
LOGGERHEAD follows 2015's highly-rated 'Ginga', which featured MNDSGN and Andrew Ashong. At this time he was part of the nascent Touching Bass family, flat-sharing with TB don Errol Anderson, who helped with the release. A run of two EPs followed ('N.A.I.S' and 'S.U.F.O.S') in 2018 and 2019, along with multiple musical collaborations and an ongoing working relationship with graphics supremos Done London.
In 2021 he released the acclaimed 'South' with Lex Amor as a 7" with Ra Ra Rok Records, the Camden label run by Pete Donaghy who came to London to see The Clash play in 1977 and never left. "'South' was an exfoliation of how I was feeling," he says. "It made me more relatable to people who weren't going to go out of their way to understand what I was doing. South is a position – people are going to be open to all the different turns and directions of the music." Soon after the release, Wu-Lu signed to Warp.
Miles Romans-Hopcraft grew up considering himself a grunger ("I wanted to be a Red Hot Chili Pepper") but was into non-grunger grime. His parents would take him to a legendary Brixton community squat Cooltan Arts – "a big part of Brixton back in the day" – where kids and families could eat dhal, play djembe, do tai chi. He learned trumpet with his musician dad before switching to bass and starting a band with his brother and their friend. Then he got into DJing with the jungle and hip hop records his dancer and youth worker mum brought home and fell in love with turntablism via the cult film 'Scratch' which led to making beats. Gradually he reincorporated instrumental music back into the mix.
In 2016 Wu-Lu co-founded a community-facing rehearsal space and studio, The Room, with drummer and producer Kwake Bass in the borough of Lewisham. They'd originally met at legendary Brixton open mic night Speakers Corner where Kwake was in the house band. "The angle is just to circulate the artist pound," he says. "We tried to make it as wholesome as possible. It's something that's very close to my heart."
And his artist name? It's an adaptation of the Amharic word for water – 'wu-ha' – adjusted to avoid confusion with the Busta Rhymes track. Like water, he can shift and adapt around any obstacle, dodging pagans and creating creative alliances with artists including Black Midi (Morgan Simpson is a friend and played drums on 'Times'). He has provided support slots for NYC hardcore punk band Show Me The Body and his Brixton buddy Lianne La Havas. He recently appeared in Nicholas Daley's fashion show. "Really and truly I'm trying to inspire and encourage people to not be afraid of developing their thoughts and ideas," he says. "That's the main nucleus of what I'm trying to do."
Life is hard, but this record will help you through.
---
---
---