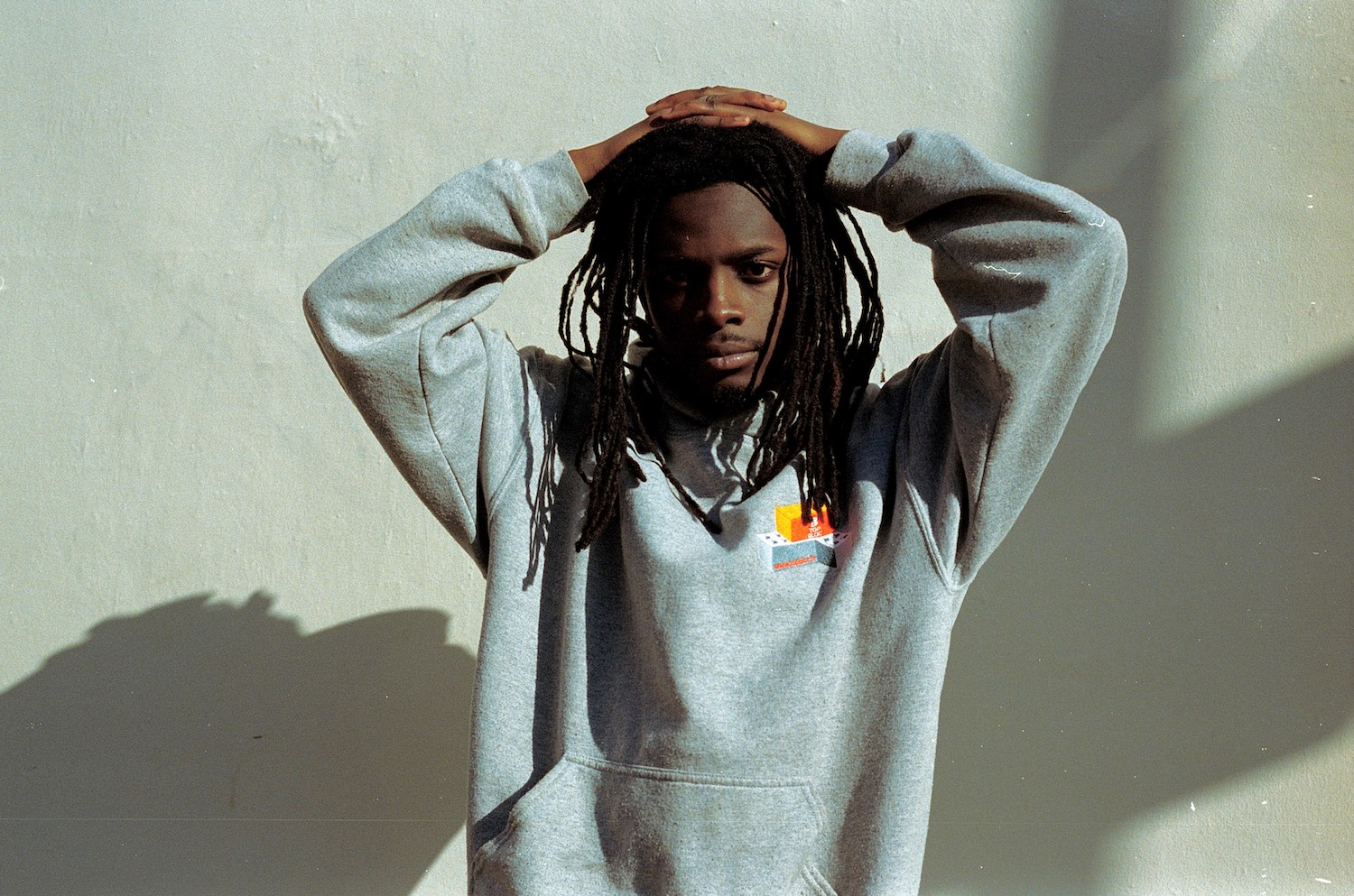 Born from Peckham's tangled streets and an imagination keen to distort, discomfort and entice is the sound of Sam Akpro. Sparked equally by the borderless sonic contortions of Yves Tumor as he is the extreme post-rock manipulations of Slint and the kitchen-sink observations of Hak Baker, there is a depth here – and a sense of discernment – that belies his twenty-four years.
Dive into his 2021 debut EP, Drift, and you will hear propulsive post-rock that'll grab you by the collar, a mutant orchestra of strings and distorted electronics that pass like a dark, unsettling cloud. The scale of Akpro's ambition caught the ear of Wu-Lu, Shame and 404 Guild who welcomed him to open their performances across South London, inheriting new listeners and a burgeoning reputation with his fusion of no-wave, jazz and funk.
All the while, he felt a pressure to define his sound, to carve out a statement of intent – but his hotly-awaited second EP, Arrival, proves that it's in that space of uncertainty where interesting things start to happen. He returned to a place of no-pressure experimentation, trying on sounds, particular feelings, until he found the right fit. It was all about instinct, and from following something so natural, the confidence you hearfeels effortless. Compared to his previous EP, Arrival's four tracks come as a surprise. Akpro is taking his sound right to the edge, drawing on a hyped-up heaviness that feels like a rush of blood to the head; a kind of adrenalin hit that will have you sprinting for miles.
'Trace' is the connector between where Akpro has been and the next step in his evolution: written at the tail end of his previous EP which he had co-produced with Finn Billingham of Sunken, its off-kilter funk was reflective of the relaxed atmosphere that he finds to be the most creatively fertile. 'Leaving Please', a feverish sonic freak-out, similarly came to life in a matter of hours. Tumbling down a rabbit hole of sampling, digging for his own drum brakes and listening to the beats of J Dilla, the making of the track proved to be a perfect storm of everything that sparks Akpro's creativity.
Arrival was also created in a time of turbulence. With the world upended by the pandemic, he found his world confined to four walls. Under the weight of it all, making music suddenly felt strained. Only a sound like that of the title track could be born of a time like that with its pacing rhythm and percussion that rains down like hellfire. "The headspace for this track was probably more of a depressing one," he says, "just because the world felt quite weird at the time. Everything just stopped. It felt like being in limbo."
Single 'New Blocks', however, represents something far more hopeful. It was written alongside his band who transformed his production sketch into the chameleonic track you hear today. Coiling tension its unrelenting rhythm to create an uneasy, jazz-indebted arrangement, just when you think you have it figured out, Akpro pushes the sound over the edge into oblivion, caught in a punishing freefall, going faster, faster until it reaches its conclusion.
Mind-altering: that's his ambition for this project, to warp your expectations and catch you by surprise. Arrival implies that Sam Akpro has reached his destination, but really, it's a roadmap for where he's heading next.
---
---
---