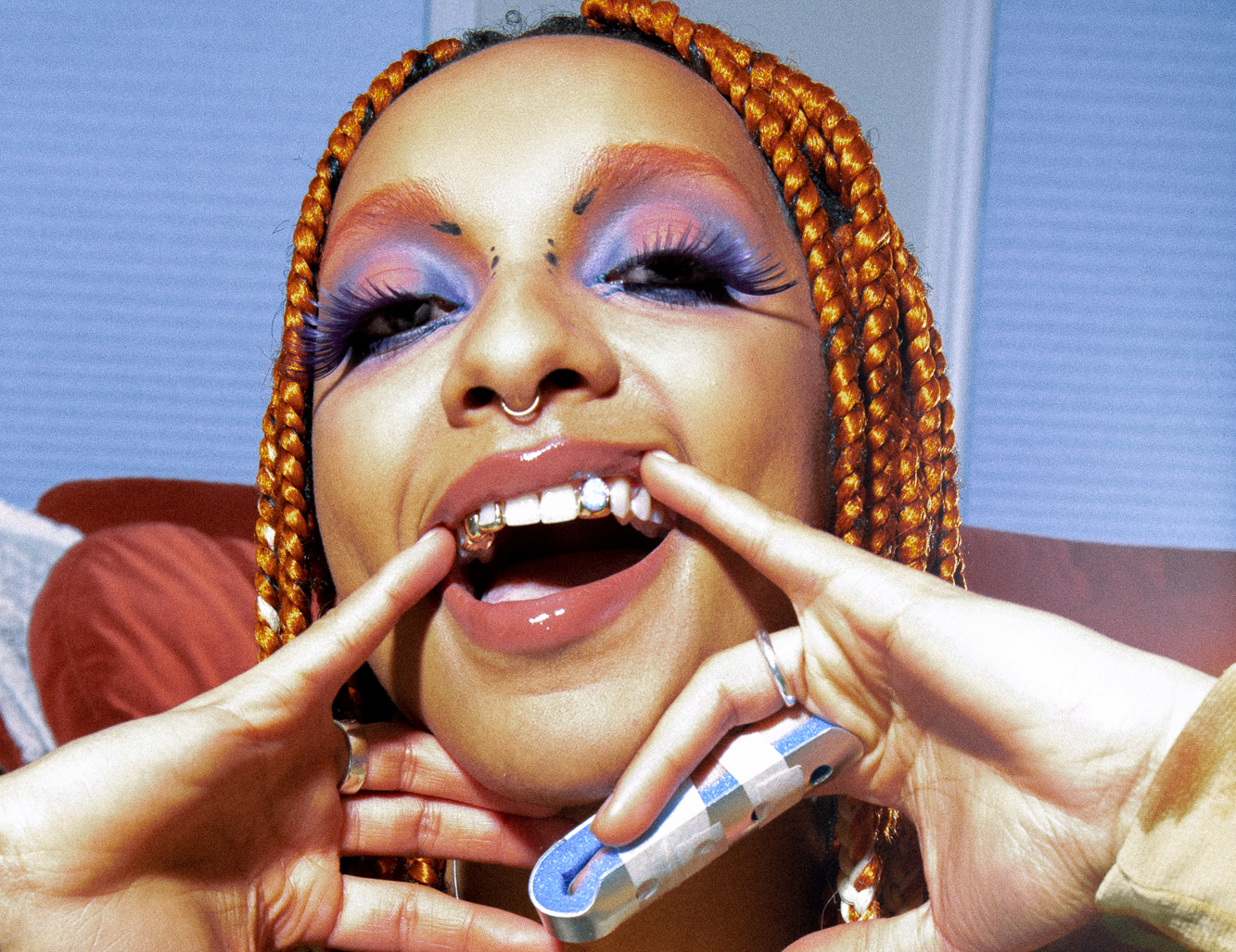 Magi Merlin (MADGE-eye) grew up in Saint-Lazare, Canada. A place that may sound unfamiliar to you, but rest assured it is a lot closer to home than you realize. A wet dream created by people like Nixon in the 70s, a place for white folks, by white folks. The suburbs is the epitome of "normal" unless of course you replace white with black, straight with queer, that is when normalcy is challenged. This, amongst other subjects — such as the impact of capitalism on art, nepotism, the relationship one has to taking pleasure in belonging to those things while rejecting them all, is what drives and inspires the creative universe behind Gone Girl – Merlin' latest and most audacious effort to date. The EP draws on influences from 90's house, drum and bass, Motown, to acid-flecked hip hop. Merlin's voice, alongside Funkywhat's recognizable production style, reminds you of a smoky after hours club — if the windows were shattered by bass lines, the walls leveled by 808s. The self-described "cheeky nihilist" combines jazzy scats, raps, and breakbeats together in her musical cauldron to address issues like generational angst, fake friends and casual racism.

It would not be entirely accurate to refer to Magi as only a singer or a songwriter. Music is indeed at the core of her creative universe, but her world expands beyond the medium. It is one that is equally visual as it is auditive, one that is continuously shaped through collaborations with fashion designers, photographers and video directors. Gliding over frostbitten hi-hats, tectonic snares, and a voluptuous bass line in the wonderfully brazen "Free Grillz", Merlin shows off her vocal gun closet. Marrying a sensuous and self-assured rhyming sensibility with wistful hooks, the song is accompanied with a music video in which she comes across as menacing, icy, and utterly captivating. "Pissed Black Girl" pushes that high-energy fever dream even further. The song channels pent-up frustration from years of dealing with faux progressives and transforms it into an ecstatic, cathartic, life-affirming dance floor anthem — one that subverts the tired trope of the angry black woman.

Gone Girl can almost feel like a mixtape with its interludes and playful subversion of musical genre. It's only fitting that it ends with "No Ego", which captivates with its tantric chants, ones that celebrate how we're all just making it up as we go. Funky and energetic — yet also confrontational and brooding and pained — Gone Girl shows Merlin equally capable of dazzling her fans with soulful dancefloor numbers as she is grabbing the mic and presiding queenlike over her ever-widening stage.
Based in: Canada
Represented by: Jens Oberthür
Territories: Germany
---
---
---