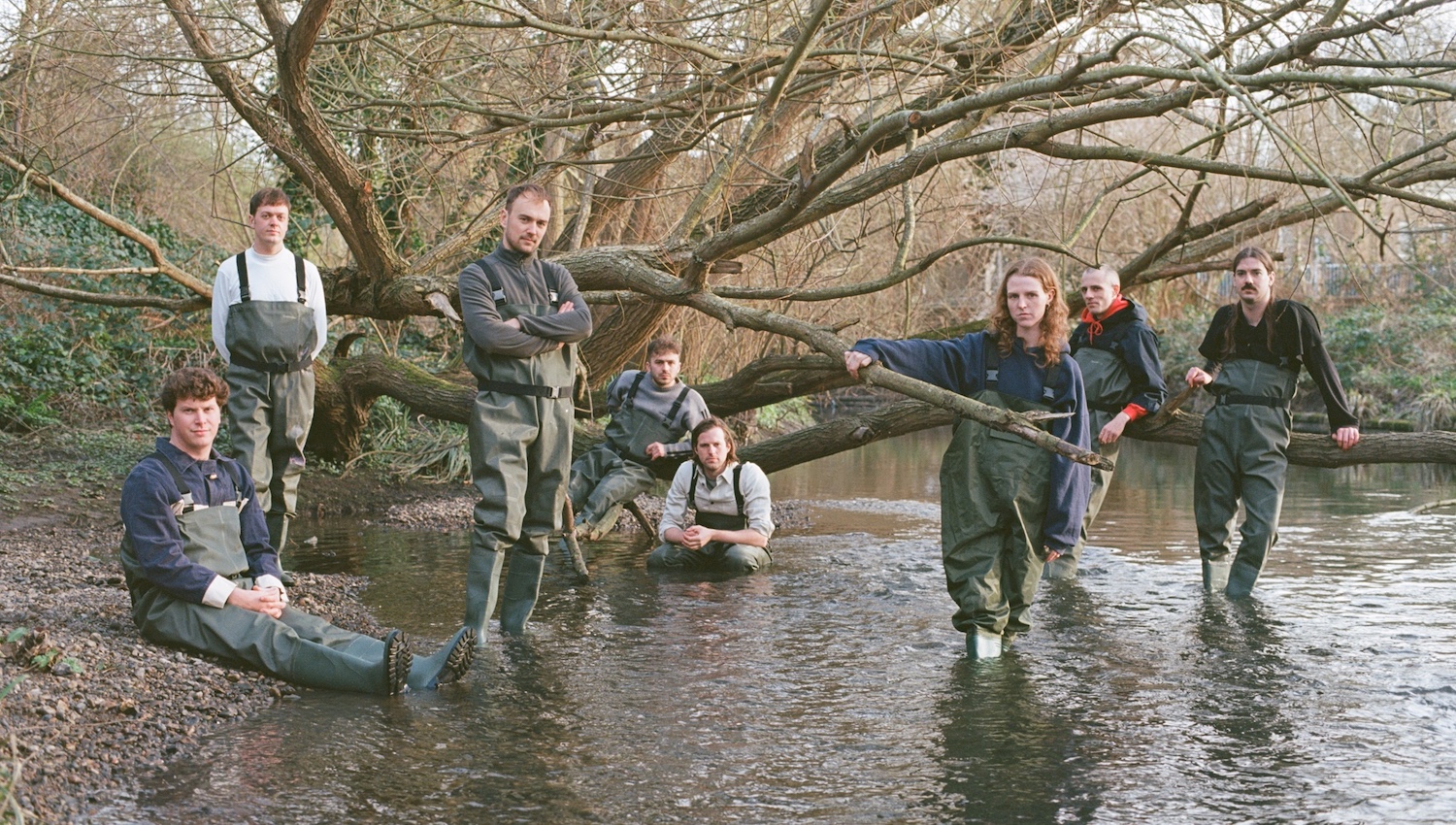 caroline began in early 2017, evolving out of weekly improvisation sessions. Band members brought together their shared influences, including Midwestern emo, Appalachian folk, minimalist classical and various forms of electronic music, slowly expanding their ranks as the songs developed. Rough Trade released their debut single "Dark blue" in March 2020, and the eight-piece were nominated as Ones To Watch at the 2020 AIM Awards where they were narrowly beaten by Arlo Parks. A second single 'Skydiving onto the library roof' followed in May 2021. These early singles received praise from Pitchfork, FADER, NPR and Paste among other places.
A version of 'Dark blue', caroline's sublime first single opens the album, written on the day Casper Hughes, Jasper Llewellyn and Mike O'Malley first started playing together half a decade ago. Llewellyn and Hughes met at university in Manchester, and on moving to London invited Llewellyn's old friend Mike O'Malley to form a group, rehearsing in the upstairs room of a South London pub. Yet as they kept on playing that hypnotic 'Dark blue' riff, it became clear that something altogether deeper was emerging. "As soon as 'Dark blue' became more structured, we thought some swoony violin would be good," says O'Malley. To provide it, they recruited Oliver Hamilton, who had also had a stint on bass in their early days.
As the band's sound kept expanding, so too did their line-up, eventually becoming an eight-piece completed by trumpeter and bassist Freddy Wordsworth, another violinist Magdalena McLean, percussionist Hugh Aynsley and flute, clarinet and saxophone player Alex McKenzie. By the time the cast settled towards the end of 2019, the songs too were expansive and emotive pieces, their rich palette drawing on a mixture of choral singing, Midwestern emo and O'Malley and Llewellyn's roots in Appalachian folk.
Their debut album caroline was mixed by John 'Spud' Murphy (black midi, Lankum). On it, songs can cascade like an avalanche with the full force of so many instruments, squalling and rumbling on the edge of all-out collapse. At other times they slip back into impossibly fragile moments of quiet – a simple bassline or a rattle of snare the only sound amid a dark sea of silence. caroline know exactly the right balance between restraint and release. "Sometimes things sound much better when there's empty space," says Llewellyn. "Sometimes you might populate [a song] with too many things and forget that an element on its own is enough."
Based in: United Kingdom
Represented by: Kirmes
Territories: Germany
---
---
---