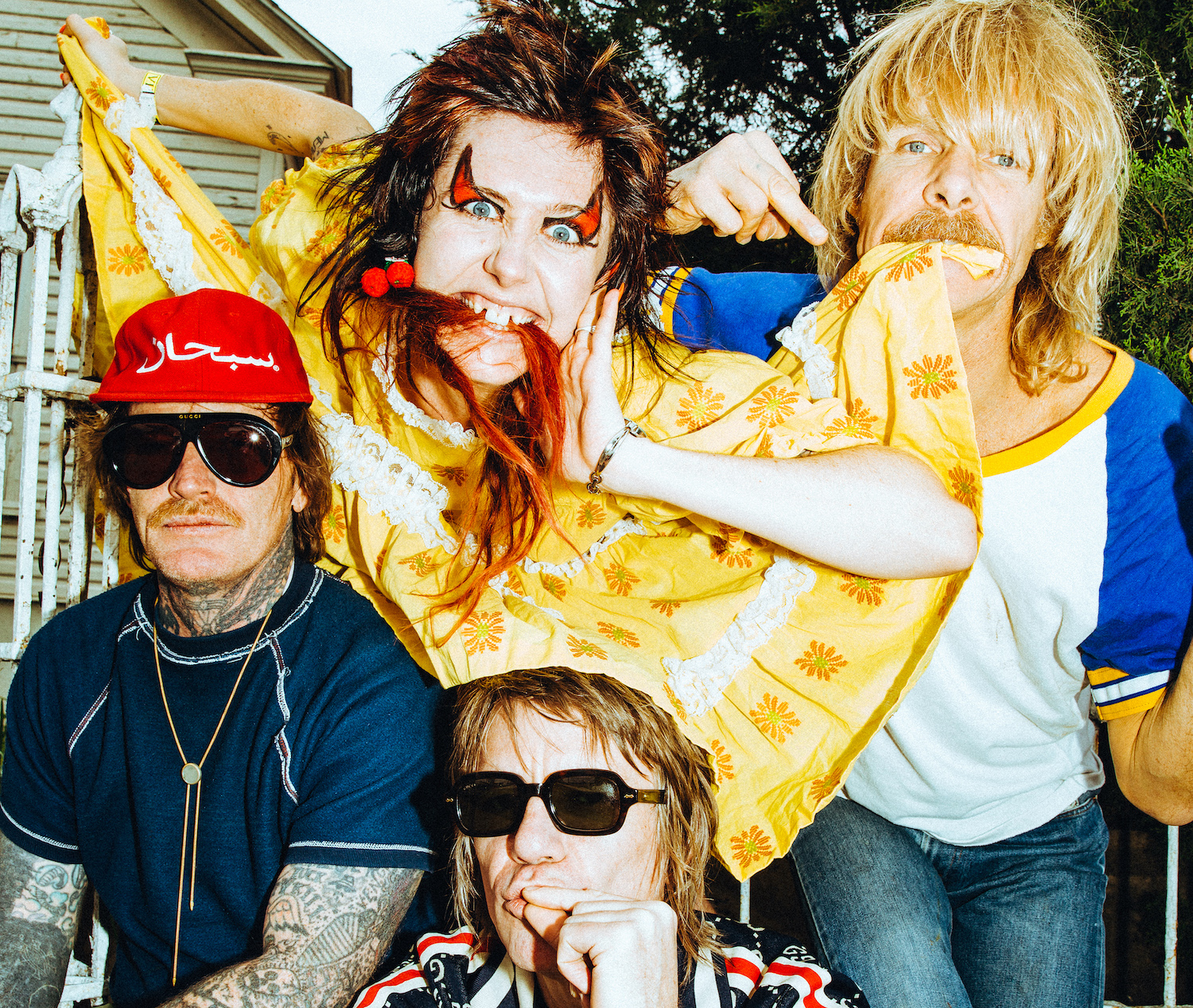 Now a Brooklyn institution, Surfbort have effortlessly blown the rafters off any pretense of cool with their irresistibly inclusive, cathartic, love drenched live shows and elemental, distilled, cannon of hits. John Doe (X) hailed their debut LP Friendship Music (2018 on Julian Casablancas' Cult Records) as one of the 10 greatest punk records of all time alongside the Stooges, Ramones, Damned, Modern Lovers, Germs…etc, and Chris Stein and Debbie Harry (Blondie) named Surfbort as their favorite punk band.
Led by irresistible Dani Miller, a frontwoman with a star wattage so assured and unaffected she will win over even the staunchest disbelievers, and backed by veteran rockers Powell, Kilgore, and Head, Surfbort has swiftly become Brooklyn's "it" band. Much of their power lies not only in Dani and her special brand of fucked up magic but in the band members' roots…the engine room of Surfbort is the culmination of a lineage that stretches back to the bedrock of the 80's punk scene in Texas. The reason surfbort feels so sturdy and credible is because they are. The same fertile swamp that birthed Roky Erickson, Scratch Acid, the Big Boys, the Dicks, and Butthole Surfers is in the DNA of surfbort, (BHS legend Gibby Haynes appears in two of their videos and has performed live with them as Butthole Surfbort).

Miller's voice is iconic, deep, droll, cool, and the guys backing her are a supergroup of Texas legends, all accomplished in multiple mediums and alums of other great bands. Sean Powell's brutal, beautiful drumming is at the heart of Surfbort, and he first gained notoriety for his style in the legendary Fuck Emos, who were inducted into the Austin Music Hall of fame last year. He also played in the Fakers, and Ice Balloons (with TV on the Radio's Kyp Malone). Never satisfied with anything predictable, he and Kilgore form the rhythm section and work hard at pairing their tunes down to the essence…Frankenpop. Heavy, beautiful, and off kilter. A part of the early Texas scene, Kilgore left home at 15 with Verbal Abuse out to San Francisco and soaked up all the sights and spirits of the early days of punk which can be felt in his gleefully unschooled style of guitar playing and composition. David Head Jr.'s jagged guitar style gained prominence in his first band The Motards, but can also be heard in his follow up band Headache City. All share an encyclopedic knowledge of the music they grew up on which is why they are so able to channel such a pure musical platform for Miller. The real sleight of hand of Surfbort though is the way these four distinct individual forces come together to form a whole.

Live, Surfbort are an explosion of glee, a celebration of the moment together with their audience. Their attack is blistering and ecstatic: they will kill you with love. In performance Miller is riveting, magnetic, and unifying: her ability to disinhibit an audience through her own disinhibition is exhilarating. Her charisma is such that you can't take your eyes off her and you will go home thinking about her. Her ability to caricature and cartoon, mock and embody sexuality is like that of a beautiful, demented circus clown. She has created a new universal pan sexual physical vocabulary that feels referential and original all at once. She is a star. Plain and simple, and her vocal style iconic. Kilgore's high pitched backing vocals punctuate time and again perfectly weaving with Millers' reminiscent of X or Red Kross, his guitar thundering out like Greg Ginn or Lemmy while Head's beautiful stabby style pierces in perfectly and underneath it all Powell murders his drums. You don't hear this band live, you FEEL them. They will get you.
---
---
---